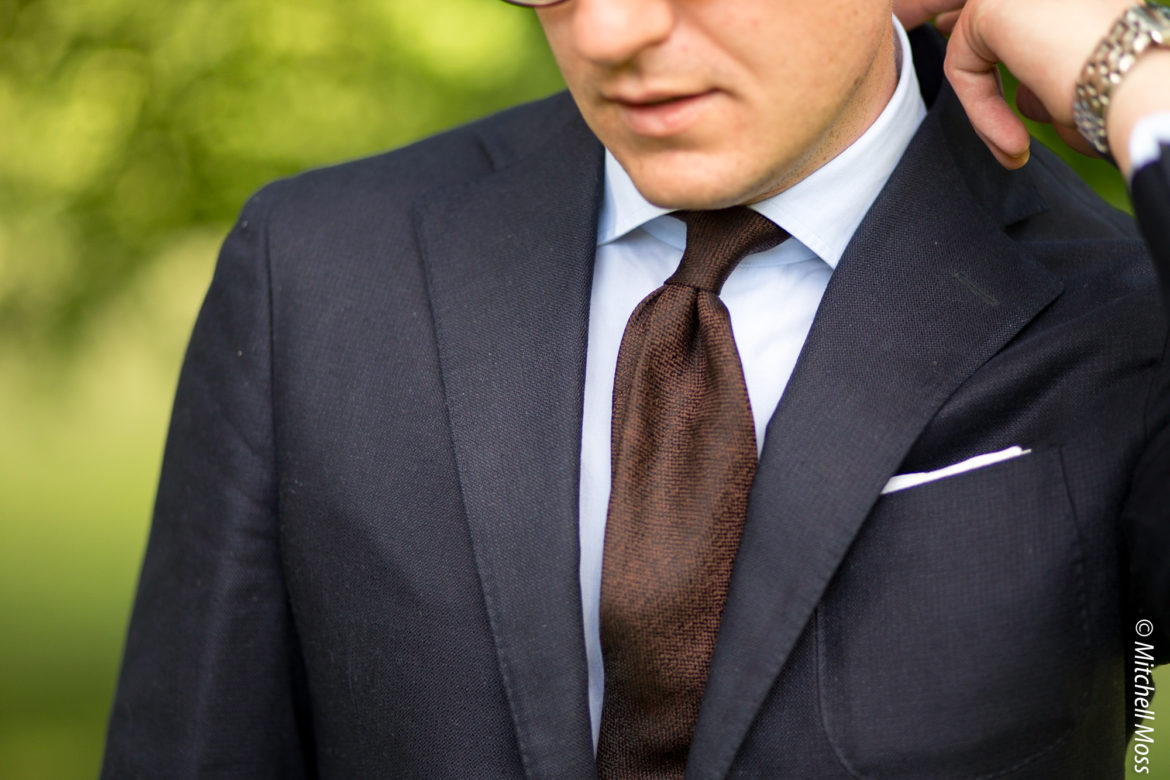 The Radical Act of Perfecting the Basics
Today I wore an outfit I sometimes think of as extremely boring: a navy blazer, solid pale blue shirt, off-white cotton-linen trousers and snuff suede loafers. It is my basic summer uniform—the warm weather, southern Italian-inspired equivalent of the "security guard" look (of navy blazer with gray trousers).
When getting dressed, I sometimes find myself searching for something, anything else besides these typical components, because I feel they are too basic. And so I've been acquiring light blue shirts in stripes: university stripe oxford, awning stripes, fancy stripes of blue with brown and white. Those all have given me a great deal of joy and provide an excellent shirt base for a good outfit.
But it really is quite radical just to wear something basic, if you nail it. When you get the fit perfect and add some personal attention to detail (whether via a well chosen pocket square, the interesting textural variation of the shirt compared to the jacket, the accessories you wear or any other individualized change from the norm), that takes the impression your clothes give up a notch. Doing so can take so much time and commitment that most people give up at a certain point and settle with what they have. Of course there are opportunity costs involved in that pursuit, which can prevent us from getting exactly what we want—and for that reason nobody should ever negatively judge another for what they are wearing. But if you are like me and have an aesthetic in mind, putting forth the effort brings great satisfaction.
So I encourage you to take time to master the basics. Don't settle for less than exactly what you want in a pale blue dress shirt, or a navy blazer, or a staple suit. Yes, you can get lesser versions at first as you are starting out and need things to wear day to day. But keep it in the back of your mind to look out for that perfect specimen of each of the basics (whatever those might be in your wardrobe) and upgrade them as you are able.
And when you find them, you will find that what elevates your style isn't necessarily just the trendiness, flashiness or boldness of the outfits you wear. But rather, it's a personal commitment to finding the absolute best for yourself, whether it's just the basics or the avant-garde.