My Style, and Recommended Shops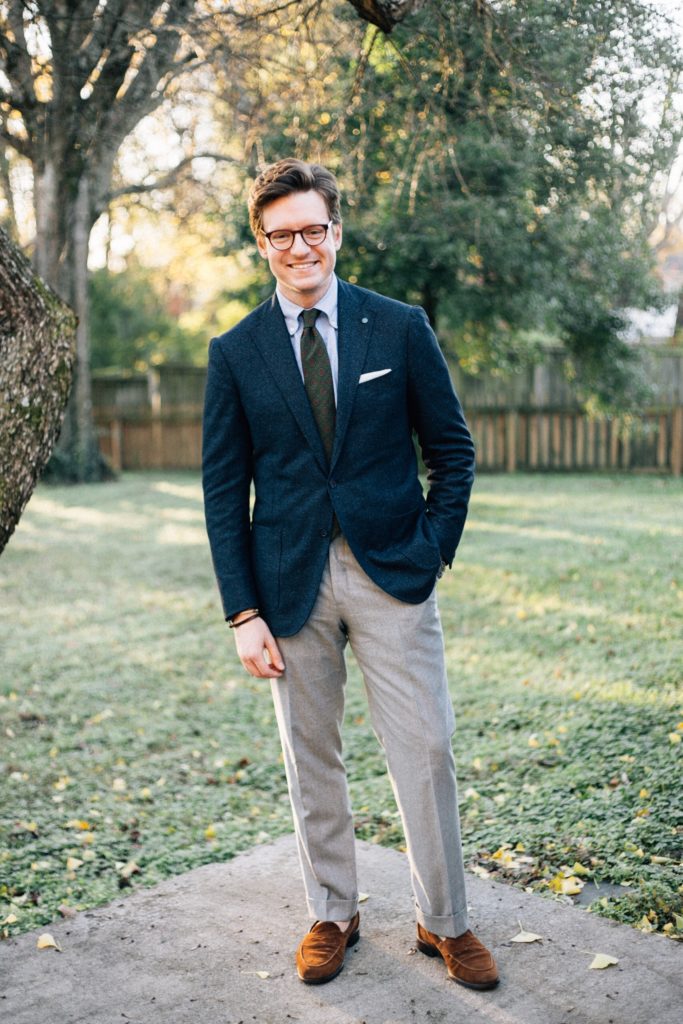 I liked clothes for a while before figuring out just how I wanted to dress. Perhaps you are in that position now—wanting to dress well, but not quite sure exactly what "works" for you, or even just what coherent set of stylistic choices you like best. If so, and if you like the way I dress, perhaps a short explanation of my style will help you as you sort things out for yourself.
I'd describe my style as an updated Ivy League with a good dose of Southern Italian tailoring influence. Ivy appeals to me because it has an easiness about it—comfortable and easy to look good in with minimal effort. The actual Ivy clothes worn in the mid-century fit a certain way, however, which to my eye often looks boxy. My penchant is for updated cuts (not skinny or slim, but indeed with more emphasis on shape) with better, contemporary fabrics. Though, it's still tough to beat a brown herringbone tweed jacket.
Southern Italian tailoring traditions inspire me because of the carefree, lived-in and comfortable way they wear tailored clothes. I love tailored clothing for the way it flatters me and inspires confidence, so more often than not that's what I'll be wearing out and about in public. But that can bring with it a concern of being overdressed, depending on the context. The attitude behind Southern Italian tailoring helps alleviate that feeling for me (though to be honest, rare is the person who notices the differences between tailoring styles).
Eidos was my go-to brand for years, as original creative director Antonio Ciongoli infused the brand with these exact two sensibilities heavily, particularly in the first few collections. The brand changed over time, and has now moved in a completely new direction under a new creative director, Simon Spurr. His aesthetic for Eidos is nothing like what I like (though there's always a sweater or pair of jeans you can find inspiration in). 
As my life circumstances change (first baby on the way!), and as I grow, I'm expanding my horizons a bit, particularly in the casual realm. But these two style influences are still the pillars of my daily clothing choices and preferences. I hope you enjoy my style and writing!
Recommended Brands and Shops
Of course I love Eidos, but I wear a lot of other brands, too. Here are the shops I have bookmarked and shop at regularly.