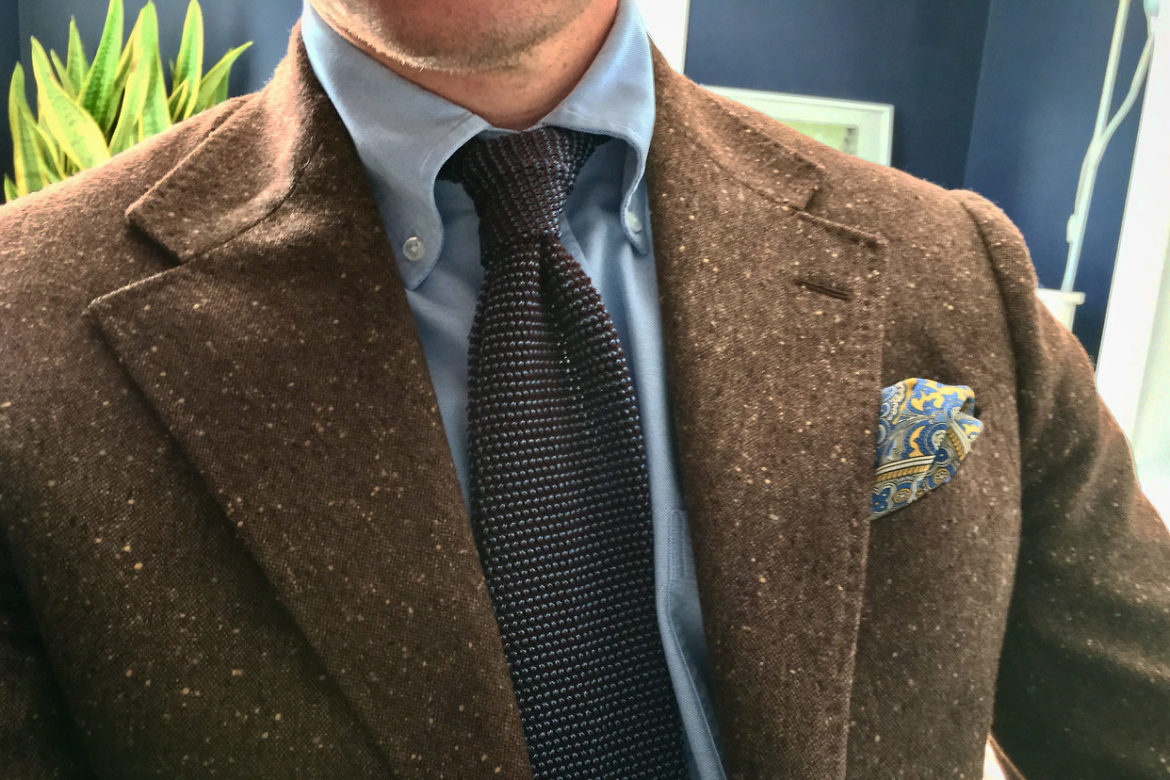 How to Make the Most of Your Proper Cloth Purchase
I love Proper Cloth. I only own a few shirts from them, but each of them is in heavy rotation within my wardrobe. I have a blue OCBD popover, a light blue cotton-linen Oxford cloth with soft cutaway collar, a beautiful varied light blue stripe cotton-linen with cutaway collar, and a wide-stripe light blue Oxford cloth with soft spread collar.
Over the course of my four orders, I've learned some things that help me ensure each order is set up for success. Those lessons fall into two categories: Design Considerations and Fit Considerations
[Use this link for $20 off your first order from Proper Cloth, and I'll receive a bonus from them, too] 
Design Considerations
Given my typical daily attire of sportcoat, denim or chinos and suede shoes, I'm often without a tie. I am inspired most by the Southern Italian sense of rakish, masculine style that's unafraid to be a little dramatic. But I am also inspired by traditional Ivy League, with its comfortable familiarity and approachability.
Proper Cloth has a ton of different collar styles, but I find that I'm drawn to two collar styles, which represent the two opposite ends of my style spectrum—the Soft Ivy Button-Down and the Soft Roma Cutaway.
I use the Soft Ivy Button-Down on Oxford shirts, primarily, though I would consider it on a washed chambray or denim shirt (which Proper Cloth does a run of every 2-3 months). It makes sense to me in this context, since Oxford cloth as a fabric is sturdy and would feel out of place with a dressier collar.
I use the Soft Roma Cutaway for nearly everything else. When I wear a shirt open-collar, I feel that the tall band and long, swept-back points are an attractive, masculine look that frame my face excellently. This collar looks good buttoned-up, too, though it may not be to everyone's taste worn with a tie. By the way, this collar design is completely identical to the Eidos Marcus sport shirt collar design, which was the primary sport shirt collar Antonio Ciongoli designed for Eidos for all the last year or so of his tenure there. I genuinely miss the Marcus sport shirt. PC's Soft Roma Cutaway is a good second-best in its absence, though.
The third collar style I like, though I use it very sparingly, is the Soft Roma Spread. It has the exact same measurements as their normal Roma Spread, but the interlining is soft. I prefer soft interlinings in general for the carefree vibe they give off, and feel that they work well worn casually without sacrificing the ability to be dressed up well, too. This collar would be my go-to for shirts I knew I'd wear with a tie 90% of the time. It looks good open-collar, too, but it has less character and Italian charm to it than the cutaway version. However, if your circumstances require you wear a tie often, this is the collar I'd recommend.
Front: I like the soft placket for Oxford cloth or washed chambray/denim (also consider the popover for these), but otherwise find the French front to look cleaner. I lower the second button 1/2", too, but that's a personal quirk.
Cuff: Soft long one-button. It is the only option I use.
Pockets: I like the angled pocket on Oxford or washed chambray/denim, or no pocket for everything else.
Buttons: If you're going budget, get the Roma buttons—they look nicer than the normal ones. If you want to spend extra on buttons, go for the tall MOP—it's a small but worth it additional $5 above the cost of the normal MOP buttons.
Size and Fit Considerations
Proper Cloth is great about remaking shirts that don't fit well. Your first order is almost just considered a trial shirt (though hey, if it fits perfectly, great). My first shirt was a mess, and by communicating with their customer service folks, I was able to dial in measurements on a shirt that's still one of my most-worn (my light blue Oxford popover).
My suggestion is to take a shirt or two that you love the fit of and use the measurements from those to create a custom shirt size. That's what I did and have tweaked to get perfect fit every single time. There are a few things I recommend you slightly alter, however, to set you up for the most likely success, based on my experiences.
For most shirts
Proper Cloth builds in some extra fabric on their end to accommodate for shrinkage. In every aspect except for the collar, I find they add just the right amount and it's perfect. On the collar, though, I feel that they add a bit much. As such, I reduce my collar measurement by 0.25". So in my case, where an ideal collar would measure at 16.25", I order 16". If you're a 16, I'd recommend you order it as 15.75".
For Oxford cloth shirts
Oxford cloth shrinks more than other weaves, so they add slightly more shrinkage on their end for Oxford cloth. I have found they add too much for the collar, but not enough extra in the sleeves. So here is what I do for Oxford cloth shirts (including linen-cotton blend Oxford weaves):
Subtract 0.5" from your normal collar size (seriously)
Add 0.25" to your normal sleeve length.
So on my shirts, where an ideal collar should be 16.25", I order 15.75" for Oxford shirts. An ideal sleeve length for me is 35.75", but I order 36".
Definitely give Proper Cloth a try if you haven't. I'd recommend starting with something like an Oxford shirt, as their $85 price point is very competitive and lets you dip your toe in the water.